Plant names
Scientific name:Mentha Piperita
English name: Peppermint essential oil
French name: Poivree Menthe
German name: Pfferminze
Family: Lamiaceae
Arabic name: Nanae
Persian name: Nanae felfeli
Peppermint synonyms: Essence De Menth Poivree, Essencia De Hortela Pimenta, Pimenta, Olem Menthae Piperitae, Menthae Piperitae Aetheroleum.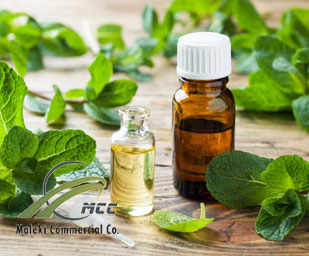 Botanical properties of Peppermint essential oil
It is a perennial plant up to 30-90 cm height, leaves are opposite, ovate, arrate on the edge, and flowers are purple and white in pseudo inflorescences.
Medicinal part
Aerial parts
Where does it grow?
It grows as a garden plant in most parts of Europe and USA and also in most parts of Iran as a self-grow plant.
Peppermint essential oil characteristics
A colorless liquid, light yellow or greenish yellow with distinguishable odor, cold taste and strong aroma.
This essential oil contain an alcohol, colorless crystals called Menthol –Free Menthol with chemical composition of )C10H20 O), which is used in aroma and confectionary industries. It is also recommended for nose irritations due to cold according to cool habit property of mucus.
Maleki commercial exports premium quality essential oil with ordered packs to all over the world.
Peppermint essential oil chemical composition for export
It contains Menthone, Menthol, Menthlyl Acetate and Terpenes. Unfiltered essential oil bear Dimethyl Sulfide. In B.P ranging 4.5-10 (v/v%) esters based on Menthyl Acetate (C12 H22 O2), at least 44% of the total weight is directed on free alcohols based on Menthol and 15-32% of the Ketones are distinguished based on Methone (C10 H18O).
In U.S.N.F, esters at minimum of 5% based on Menthyl Acetate, total Menthon, are characterized freely or as esters at least 50%.
Solubility:
one part is soluble in alcohol (70%) with a little darkness and low contrast and one part is soluble in 0.5 part alcohol (90%).
Solutions sometimes turn dark with more alcohol addition. It can be mixed with dehydrate alcohol.
This plant is native to Iran and we have the best quality plant and essential oil in our country. We guaranty high quality for our products. Maleki commercial exports best price peppermint essential oil globally.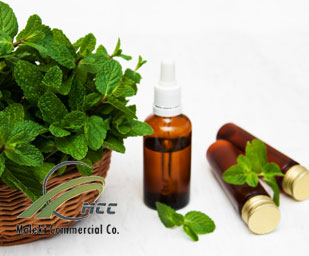 Peppermint essential oil products for export
Emulsion
Concentrated peppermint emulsion (B.P.)
Constituents
Peppermint essential oil 2ml
Strong water chloroform (2 fold concentrated) 50 ml
Polysorbate 0.1ml
Boiled water up to 100ml
When the solution is 40 times diluted, the resulting mixture is strong as peppermint extract.
Concentrated mint emulsion
Peppermint essential oil 2ml
Strong water chloroform 50 ml
Cool boiled water up to 100ml
Panama extract liquid 2ml
Alcohols
(Sp. Menth. Pip) Spiritus Menthae Piperitae)(B.P.)
Peppermint essential oil 10ml
Alcohol (90%) up to 100ml
Mix and shake well with disinfected talcum and purify if necessary.
Alcohol 95% is used in A. P. E.
Essence of Peppermint (U.S.N.F)
Mint essential oil 10ml
Mint leaf tincture (1%) 90ml
Peppermint tincture preparation: the tincture is extracted from powder macerated mint leaves in alcohol for 6 hours priory macerated in water for 1 hour.
Extracts and solutions
Peppermint water concentrated (B.P 1973)
Compounds: Mint essential oil 2ml
Water 100ml
Alcohol 6 ml
Mix with talcum and then purify. The solution is 40 times stronger than mint water.
Diluendum Menthae (Hung. P)
Mint essential oil 200 mg
Polysorbate (20) 2g
Water 77.8
Alcohol (95%) 20 g
Composition:
Mint essential oil 0.2 ml
Water up to 100 ml
Mint water (B.P 1973)
Concentrated mint water 2.5ml
Cool boiled water up to 100 ml
Mint water U.S.N.F
A saturated mint essential oil in water.
Maleki commercial is the biggest export complex of peppermint leaf and essential oil using high tech modern cultivation methods and expert advises worldwide.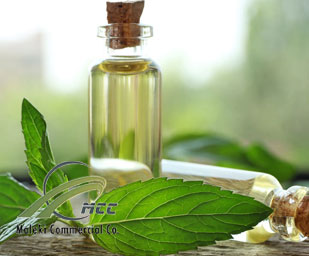 Amazing Peppermint essential oil health benefits
It is stomach strengthener and menstrual. It relives nervous disorders, enhances urinary activities and emphysema remedy.
Peppermint essential oil and medicinal uses
It is widely used in medicinal industries and is recommended for many diseases and pain relief properties. It relives nervous disorders and throat ache problems. Anti cough and seizure and it is used widly and commonly for enfluenza.
Peppermint essential oil use
It is used in cosmetic and medicinal industries.
In tooth products such as toothpaste as a taste. Mint water is a base for mixtures. This essential oil is a strong disinfectant and an odor anti-inflation. Relives stomach and intestine inflation and strengthen the stomach. Essential oil is recommended for bad headaches.
Essential oil storage
Keep in places lower than 25° C and away from light and air circulation.
Essential oil price in iran
Maleki commercial company exports pure and organic peppermint to Europe, American and Asia, under Elisso sky's brand with best price willing to gain more satisfaction for its customers.
Peppermint essential oil supplier in Iran
In order to produce essential oil for commercial aims, large acres are cultivated and plants are grown with international standards under control of experienced medicinal plant experts. The healthy and modern cultivated plants are then extracted using fully modern apparatus to gain essential oil. Customer satisfaction and quality supply is on the main aims of Maleki commercial company.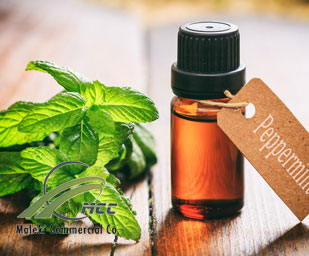 Peppermint essential oil exporter in Iran
Maleki trading company exports premium quality this essential oil as EXW, FCA, CPT, CIP, DAT, DAP, FOB, FAC, CFR, CIF in order to consumer demand.
International peppermint essential oil exporter
Maleki commercial company exports premium quality extracted peppermint essential oil using best quality peppermint leaves and expert advises considering international standards in ordered variable packs to Europe, Asia and America.