Everything about Coriander Seed
 Coriander seed Dried fruit of Coriandrum Sativum L. which contain at least 3% oil. This plant belong to Apiaceae family and the that leaves are called Cilantro in USA.
Maleki commercial exports this plant as forms of round seed, essential oil and powder in packs with international standards and Elliso sky brand to the world.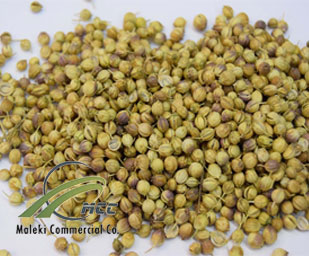 Coriander Seed properties for export
It is an annual plant, hairless, stem are erect, leaves bright green, flowers are white to pink in color, lower stem leaves have small petioles and roots are narrow and ovate. Flowers are gathered in white and dense umbels. Fruits usually ripe in mid-autumn.
Best active ingredients of Coriander Seed for export
The main constituent of the That fruit is essential oil. that fruit contain between 0.2-2.6% essential oil. The major constituents of that seed essential oil are Linalool and Coriandrol.
Maleki commercial cultivates this plant in non-cultivated and not chemically fertilized land under expert control. Required seed for cultivation with highest active ingredients is produced via the research and development department of the holding and premium quality seeds organically and precisely produced are then exported.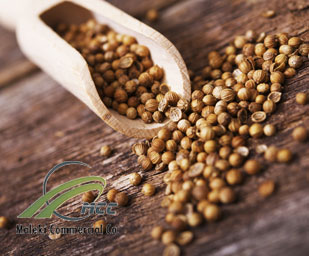 Where does Coriander Seed grow?
It grows in Iran, Ukraine, America, India and south Europe. In Iran it grows in Eastern Azarbaijan, Bushehre, Hamedan, Lorestan and Sistan and Baluchestan provinces. The best coriander in observed in Nahavand city of Iran.
Maleki commercial have specified large acres in Nahavand city for it cultivation and then, the seeds will be stored in storage rooms with standard conditions in order to global marketing.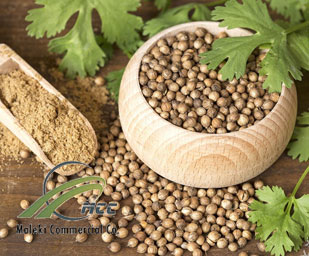 Coriander Seed history
It was known as one of the most common vegetables in Egypt about 1555 BC. Hippocrates used it for his patients in 400 BC. It was then cultivated in royal lands of central Europe according to Sharlemani Kingdom order since 1812. It was known as the love medicine in Europe middle Ages.
Coriander Seed and food industry use
it is used as flavor and odor taste for kebab types, meals and foods. The fruits of this plant are yellow in color, fresh fruit smell in not desireable, but it turns very pleasent when dry, so it is called the king of flavors by then.
That have a cold and dry nature according to traditional medicine and is used for the following: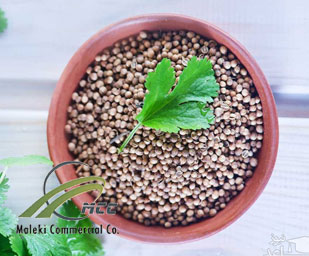 Coriander Seed and traditional medicine use
Stomach disorders
Insomnia relief
Bleeding reduction
Urinary disease remedy
Lack of appetite remedy
Coriander Seed and medicinal use
Leaves and seed of this plant are used in medicine and it is recommended for many diseases especially traditional medicine.
It is stomach strengthener.
It helps digestion process.
It also used for emphysema.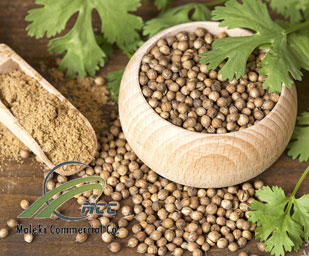 Coriander and incredible properties
It helps to overcome thirstiness.
It is used for urinary sourness, hemorohids, and bladderache.
Poisoning from Nitrogen poisons are called Potamaine Poisoning. This poison is the effect of plant and animal protein rancidity. It relives the poison of this process.
leaves of plant are used for measles in India and China and the seeds are used as menstrual.
Maleki commercial the biggest exporter of Coriander Seed
Maleki commercial is the biggest exporter of the coriander seed in Iran and over the world. Maleki commercial exports this amazing plant according to customer demand in forms of EXW, FCA, CPT, CIP, DAT, DAP, FOB, FAC, CFR, CIF.
Coriander Seed global export
Maleki commercial, the global exporter of coriander seed with highest active ingredients among all companies. This holding has gained a lot of success in this trade. If you need this aromatic plant you can buy best qualities and packs with high confidence.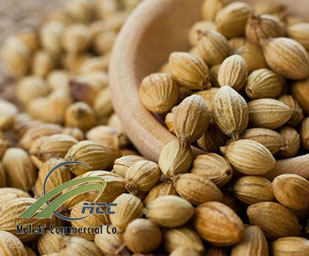 Coriander Seed price in Iran
Maleki commercial exports coriander seed with highest essential oil to Europe, American and Asia, under Elisso sky's brand with best price willing to gain more satisfaction for its customers.
Coriander Seed supplier in Iran
Maleki commercial is ready to sell coriander seed to customers all year round. We guaranty all our products through sea, air or post export.
Maleki commercial is warrantor to its customers and answers through differnt contact ways. Customers are the main base of this company. We send all orders of our products worldwide with no doubt and lateness.
Coriander Seed names
Scientific name: Coriandrum Sativum L
English name: Coriander Seed
German name: Koriander, Wanzendille, Echter Koriander
French name: Mari/De/La/ Punaise, punaise Male, Coriandre, Coriandre Cultivee.
Arabic name: Jaljalan, Karzeh, Kazireh
Persian name: Gashniz, Tokhm gashniz, heldaneh, gashnij