That is a perennial plant up to 2 meters height, leaves are linear and bright green, sponge like with little wrinkles on top surface, young branches are hairy and flowers are violet-blue and white in color.
What is rosemary essential oil?
The essential oil is collected from leaves and flowering twigs of Rosmarinus officinalis from Lamiaceae family through distillation.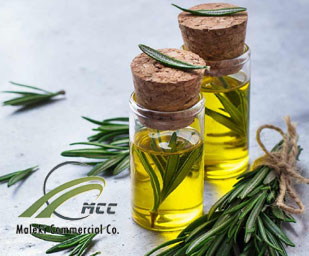 Rosemary essential oil chemical composition
Essential oil forms the main and major constituent of leaves and twigs. The most important compartment of the essential oil include: β-Pinene, α –Pinene, Camphor, Borneol and Bornyl acetate.
This essential oil contains 10-18% free alcohols like Borneol, Linalol and 0.15 right and left Borneol, 2-5% esters which are mainly Bornyl acetate.
Where does rosemary grow?
Global geographical distribution
This species is native to Europe and North Africa especially Morocco and Tunisia, South Europe, Italy, Spain and USA.
Today rosemary is cultivated and grown in the majority of countries.
Geographic distribution in Iran
This plant is cultivated and grown in Fars, Isfahan, Bushehr etc. provinces.
Rosemary essential oil products
Ointment is suggested for pain relief
Tincture from fresh parts 15-25 drops
Rosemary spirit
For preparing this spirit following compounds are used:
Rosemary essential oil 10ml
Alcohol 90% up to 100ml
Use dosage: 0.3-1.2 ml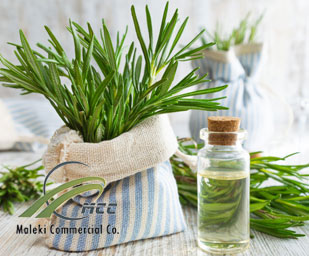 Rosemary and medical use
The essential oil is anti-inflation and stimulative, the plant is stomach strengthner, anti-seizure, anti nervous and romatism pains, anti-virus, blood pressure reducer, ingury relief remedy, burn and menstrual.
Literature review showed skin stimulative and anti pain property. Anti tumor characteristic is due to rosmarinic acid and flavonoid content of it which increases the strength of capillary veins. This incredible plant is suggested for cancer avoidence and spasm pains as well.
Spirit is mainly used in hair lotions, perfume and bam tranchils. It is also used for massage.
Maleki commercial the biggest rosemary essential oil exporter
Maleki commercial is the biggest exporter of this odor essential oil in Iran and over the world. Maleki commercial exports coriander seed according to customer demand in forms of EXW, FCA, CPT, CIP, DAT, DAP, FOB, FAC, CFR, CIF.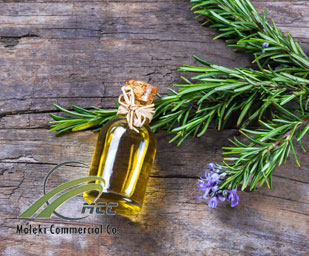 Rosemary essential oil global export
Maleki commercial, the global exporter of rosemary essential oil with maximum quality and lowest price among all companies. This holding has gained a lot of success in this trade to many different countries. If you need premium quality rosemary essential oil you can buy best standard qualities and packs with high confidence.
Maleki commercial exports best price rosemary essential oil through Elliso sky brand to the world and gained a lot of customers and high rate of satisfaction today.
Rosemary essential oil supplier in Iran
Maleki commercial is ready to sell rosemary essential oil to customers all over the world. We guaranty all our products through sea, air or post export.
Maleki commercial is warrantor to its customers and answers through differnt contact ways. Customers are the main base of this company. We send all orders of our products worldwide with no doubt and lateness.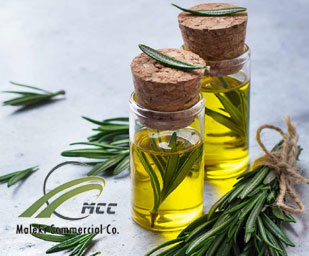 Rosemary names
Scientific name: Rosmarinus officinalis L.
English name: Rosemary, Moorwort, Herb of Memory., Common Rosemary
German name: Kranzenkrautblatter, Krankrautblatter, Anthoskraut, Echter Rosemarin.
French name: Rose Marine, Rosemarin, Feuilles De Rosmarin, Herb Aux Couronnes.
Arabic name: Hasalban eksir, Hasalban, Ekli-al-Jabil
Persian name: Rosemary, Romaren