Galbanum gum is a gum of a plant with scientific name Ferula Galbaiflua Boiss.Et Buhse. belong to Apiaceae family. This plant is called Jovashir in India.
Galbanum Features As Wild Plant For Export
Galbanum is a perennial bushy plant with stems up to 2 meters tall, leaves are plane like, more divided and lobed, green in color and covered with small hair, and small leaves are shiny on top surface with arrate edge. White to yellow flowers form in umbel inflorescences.
Galbanum types in Iran
Galbanum gum in Iran like many others is offered in 2 types namely tear like (Galbanum En Larmes) and mass like (Galbanum. En Store).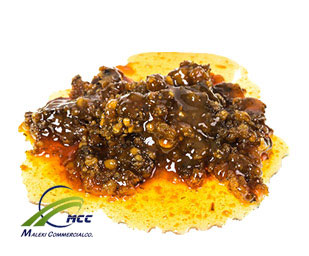 Galbanum Gum Type Feature in Iran
Tear like type (Galbanum En Larmes) is white to red or green in color which turn dark in touch of air.
Mass like type (Galbanum. En Store) are formed as irregular segments and white in color and it is mixed with external and non-purified material.
Where does Galbanum grow?
The growth regions almost include parts of Iran, Afghanistan and Asia Minor. In Iran they are also more observed in Tehran, Arak, Khorasan and Zanjan.
Effective composition For Export Best Grade Galbanum
The plant sap contains about 63-75% resin, 5-10% gum and 10-19.5 % essential oil. The resin include Galbanol, Umbelliferone and Galbanoresinotannol.
Maleki commercial company exports super premium quality Galbanum with optimum active ingredients and organic products for essential oil extraction for Asia, Europe and USA.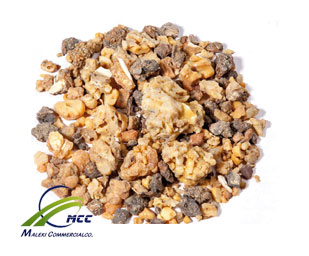 Galbanum & Healing Property
Galbanum contains active ingredients and useful compounds for a large range of disease remedies which could be useful and suggested for health. It is recommended for cough, breathe abnormalities hemorrhoids, nervous problems and liver disorders.
Other uses include body disinfection, urinary sourness relief and facilitates baby excretion.
For high quality essential oil, galbanum must be grown in a wild habit and fully organic conditions. Maleki trading company collects and exports premium quality wild Iranian galbanum through expert trained staff using natural methods.
Galbanum Usage
Essential oil is used in aroma industries as a fixator and cosmetic industries, as well as a taste and additive for food companies.
Galbanum Gum
Galbanum gum is collected through stem and root scorching but not cutting and is known as one of the important galbanum constituents with health impacts. These impacts include uterus disease relief, menstrual, digestive and anti-spasm and emphysema relief substance. It is also expectorant and used as a pain relief in form of cream.
Galbanum Essential Oil
Galbanum essential oil is used in aroma industries as a fixator, cosmetic industries and as a taste for food companies.
Amazing Galbanum Health Benefits
Galbanum is laxative and is used for constipation.
It is suggested for old coughs.
It is recommended for urinary stone break and solves kidney blockages.
Galbanum is native to Iran and we have the best quality grade of galbanum. We have guaranteed best quality for our products. Maleki trading company exports galbanum worldwide with best price.
Galbanum price in Iran
Maleki commercial company exports pure Galbanum to Europe, American and Asia, under Elisso sky's brand with best price willing to gain more satisfaction for its customers.
Galbanum Resin Supplier in Iran
In order to produce Galbanum for commercial aims, Maleki commercial company trains expert staff for collecting from regions of Iran with maximum quality. Customer satisfaction and quality supply is on the main aims of Maleki commercial company.
Galbanum Exporter in Iran
Maleki commercial company exports premium quality Galbanum as EXW, FCA, CPT, CIP, DAT, DAP, FOB, FAC, CFR, CIF in order to consumer demand.
Galbanum names
Scientific name: Ferula gumosa
English name: Galbanum
Italian name: Galbano
German name: Galbanpflanze, Galban
French name: Galbanum
Turkish name: Ghasi, Ghasni
Persian name: Barijeh, Balijeh, Ashagh, Balenboo, Ghasni
Arabic name: Ghaneh
Traditional medicine: Bazard
International Galbanum export
Maleki commercial company exports premium quality Galbanum with high active ingredient and totally organic to different countries around the world.