Botanical characteristics of galbanum
galbanum Plant: Galbanum is a permanent, perennial plant with a height of 1-2 m, cut and sycamore-like leaves, 2mm long petals, slender and cylindrical stems, 15-22mm long 8-9mm wide mericarps, yellow flowers, and glabrous petals.
Species
Ferula Gummosa Boiss.
Ferula Gumosa Boiss.
Syn: Ferula Glabaniflua Boiss & Buhse
Ferula Badrakema Kos. –Pol.
Ferula Afghanistanica Hiroe
English Name: Galbanum Plant
Geographical distribution
Global distribution:
Iran, Afghanistan, Turkmenistan, Pakistan, southern Russia
Distribution in Iran:
North Khorasan, Firoozkooh, Hamedan, Zanjan, Kermanshah, Fars, Ardabil, Chaharmahal Bakhtiari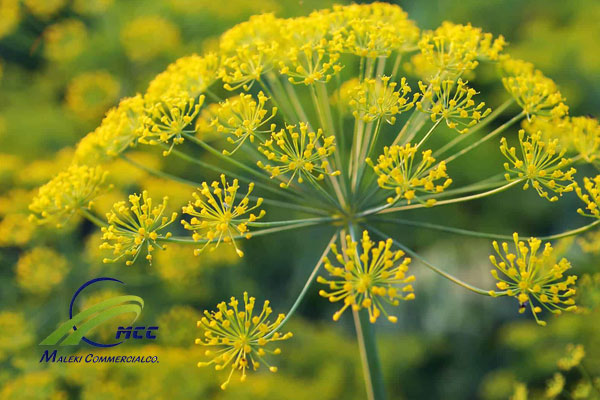 Most gum ducts of the galbanum are located in the outer part. The central part of the gland has a limited number or no gum resin ducts.
The resin-carrying ducts in the stem are evenly distributed in the skin's phloem area, and the abnormal phloem in the outer margin of the core and are shaped like single cylindrical tubes.
Plant age determination method
The plant age can be determined by counting the leaf layers in the base.
Each leaf layer represents one year of growth in this plant.
Climate conditions required for growth of galbanum
This plant is found in the mountainous-countryside areas, on slopes with an altitude of 1300-4000 m, in drained humus-rich soils with different amounts of lime, in cold steppe climates, and in areas with frosting periods and long winters at temperatures below -10 °C with an average rainfall of 250 mm.
This plant starts to germinate at 3-5 °C.
The best soil for the growth of galbanum is the loamy-clayey soil rich in humus with shallow depth and block structure without angle, fine to medium grains, and medium stability.
Harvest rate
The harvest rate depends on the following conditions:
1. Age of plant
2. Incision method
3. Incision frequency
4. Incision interval
5. Climate conditions
6. Time intervals of utilization years
Harvest time
It starts in early June and ends in mid-September.
The best time to harvest the resin is 6 days after the incision. In the harvests after 8 days, the resin dries and is not suitable according to standards and active ingredients.
Two years after the plant utilization, the incision should be avoided and the plant be left to recover.
Applications of galbanum
Treatment of chronic bronchitis
Strengthening of uterus
Excretion of kidney stones
Treatment of muscle pain
Treatment of complications of hemorrhoids
Treatment of liver diseases
Stabilization of perfume smell
Cosmetics industry
Strengthening of stomach and liver
Supplier of galbanum in Iran
For the commercial production of galbanum in Maleki Trading Company, trained farmers operate in some areas of Iran with the best quality. Customer satisfaction and commitment to selling quality galbanum are part of Maleki Trading charter.
Exporter of galbanum in Iran
Maleki commercial exports the best quality of galbanum according to the customer needs in the form of EXW, FCA, CPT, CIP, DAT, DAP, FOB, FAC, CFR, CIF.
Global export of galbanum
Maleki Commercial is the global exporter of this plant with the highest active ingredients and the best quality and price among all companies exporting this plant. This holding company has achieved great success in exporting this plant to various countries without intermediaries.
If you need this high-quality export plant, you can confidently get the best quality from Maleki Trading Company with safe and standard packaging.
Galbanum price in Iran
Maleki Commercial exports pure galbanum at the best price under the Elisso Sky brand to Europe, Asia, and the United States and has gained many customers' satisfaction.