Everything about Asafoetida gum
What is Asafoetida gum ?
asafoetida gum is a resinous Asafoetida gum collected from a plant called angadan in Persian and anjadan in traditional medicine books. 
Asafoetida gum properties for export
Asafoetida is a perennial plant up to 50-100 cm height, basal leaves, bottom stem end leaves are pinnate, hairy, 20 cm width and 30 cm height, panicle inflorescence, some parts make fruits, and petals are yellow, mericarps ovate and not hairy.
Asafoetida with scientific name of Ferula Asafoetida L. belongs to Apiaceae family.
Maleki commercial collects high quality Asafoetida from regions of best potential produce using experienced experts under master advice in summer in to ways, natural and traditional.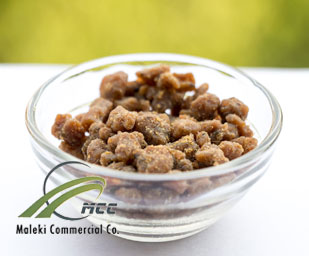 First Asafoetida discover
It was first found and identified by a person called Campher in 1687 in Larestan city of Fars province in Iran. After identifying incredible properties of this plant, he trained collectors to collect the gum of Asafoetida.
Mr. Campher is the first scientist who showed the traditional scorching method in the world. This method is known as horizontal cut in Iran. This method is also used for Galbanum and Tragacanth.
Asafoetida gum which is collected from the roots was used by Romans, Iranians and Indians. Today it is used in food and medicine industries commercially.
Where does Asafoetida grow in world?
Asafoetida is native and belongs to Iran and only a small part grows in Afghanistan. Premium quality gum is observed in Fars, Kerman, Yazd, Isfahan, Sistan va Baluchestan, Yasuj and Bushehre provinces.
Maleki commercial have many reservoirs in regions of Asafoetida growing and maintains this precious gum after collection considering standards and special acts accordingly.
Ecological conditions needed for Asafoetida growth
Asafoetida grow in sandy and non-cultivatable lands. Growing regions are very different, from mountains higher than 1000 meters to completely plain deserts and regions with lime compounds.
First rank Asafoetida produce and international
Iran produces premium quality wild Asafoetida gum. Iran have large acres and first rank of this organic and incredible gum among all other countries.
Maleki commercial in addition to Asafoetida gum production under Elisso sky's brand, it also extracts high quality essential oil using modern apparatus and expert advises.
Asafoetida essential oil is extracted using distillation method and pure 10g, 100g and 1Kg packs are exported according to customer demand worldwide.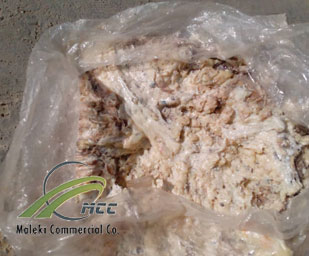 Best Asafoetida compounds for export
Asafoetida contains sulfide and monoterpene compounds including β-Pinene, –α Pinene, Granyl Astate, Bornyl Astate and etc.
Asafoetida gum contains Galactose, Glucose, Rhamnose, Arabinose and Glucoronic Acid.
Maleki commercial collects the best Asafoetida of Iran which contains highest essential oil, resin and oil using traditional methods and always aims to satisfy its customers from all over the world.
Asafoetida and incredible properties
Asafoetida have a warm and dry nature. It is recommended for toothache, side pain, urinary excretion enhancement, pertussis and asthma.
Asafoetida and food industry uses
Asafoetida gum is used as an herb in food industry and as an additive for sauce, fish and vegetables. India as the main additive center, is the first rank import destination of Maleki commercial.
Asafoetida and medicine industry uses
Asafoetida is used for anti-inflammatory, sexual enhancement, blood pressure reduction, zygote and stomach strengthener, insomnia relief, muscle spasm and bronchitis in medicinal industry. Asafoetida if used with vinegar will be good for nerves.
Asafoetida gum price in Iran
Maleki trading company exports pure organic Asafoetida gum to Europe, America and Asia, under Elisso sky's brand with best price willing to gain more satisfaction for its customers.
Biggest pure Asafoetida supplier in Iran
In order to commercially produce Asafoetida gum, collectors are trained and begin their activity in regions with high quality gum. Customer satisfaction and quality supply is on the main aims of Maleki commercial.
Biggest Asafoetida export company in Iran and globally
Maleki commercial is the biggest exporter in Iran and all over the world. It exports premium quality Asafoetida gum as EXW, FCA, CPT, CIP, DAT, DAP, FOB, FAC, CFR, and CIF in order to consumer demand.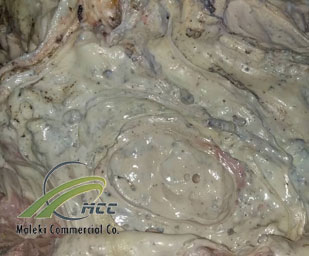 international export of Asafoetida gum
Maleki commercial exports Asafoetida gum with highest active ingredients, quality and price among all export companies and achieved significant success in this manner to many countries. If you need Asafoetida gum you can buy best qualities and packs with high confidence.
Asafoetida names in different languages
Latin name: Ferula assa –foetida L,F.rubricaulis Boiss
Scientific name: Ferula assa­-foetida
German name: Asandisteckenkraut
English name: Asafoetida, Asant, Assa-foetida Plant, Asafetida, Gum asafetida
French name: Assa-foetida, Ferula asafetida
Indian name: Hing
Arabic name: Anjadan, haltith tabib, haltith mantan, shajare abukabir, shajare alhatith
Persian name: Anghoze, Koran Koma, Angozakoma, khorakma, angard