German chamomile is a small plant belong to Astraceae family, very small and similar to Chrysanthemums or other chamomile types like Anthemis.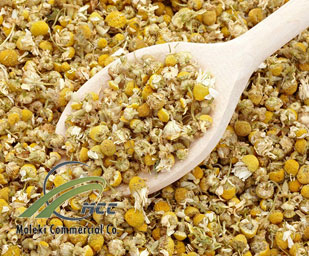 Physical characteristics of chamomile plant for export
It is a small plant, 20-80 cm height, small odor flowers, white to yellow in color, long flower stalks in the inflorescent and leaves thin and green.
German chamomile chemical composition for export
Chemical composition of that flowers include, flavonoids, coumarin and essential oil.
Flavonoids present in flowers belong to methoxy flavon class of which Leuteolin and Apigenin are among the most important.
Essential oil composition of this plant include alpha heteroside, non-crystal beta heteroside. Isobutyl, azolene and isoamyl.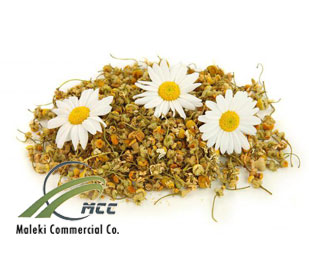 Where does German chamomile grow?
Geographical distribution in Iran
It grows and cultivated in cities like Shiraz, Lorestan, Khoozestan and Tehran.
Global geographical distribution
It is native to eastern and southern Europe and cultivated largely in Germany, Hungary, Bulgaria, Romania, Czech Republic and Egypt.
German chamomile and traditional medicine use
This plant is menstrual and sexual enhancer.
It benefits diuretic disorders.
It relives mouth and throat inflammation and benefits bronchitis.
The ointment is used for softening hard swellings.
It is used for acne remedy.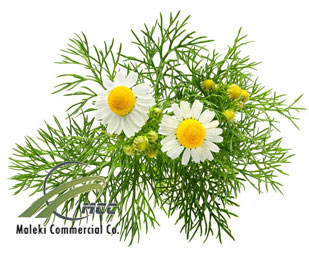 German chamomile and medicinal use
Flower extracts is good for mouth and gum infection. Anti-allergy and anti-fever and relives pain.
This plant is suggested for stomach worm remedy, tooth ache relief and stomach strengthener.
Kidney stone is discharged with chamomile tea. It is also recommended for eczema and skin itching.
Maleki commercial the biggest German chamomile exporter
Maleki commercial is the biggest direct exporter of German chamomile in Iran and over the world. Maleki commercial exports this important plant according to customer demand in forms of EXW, FCA, CPT, CIP, DAT, DAP, FOB, FAC, CFR, CIF.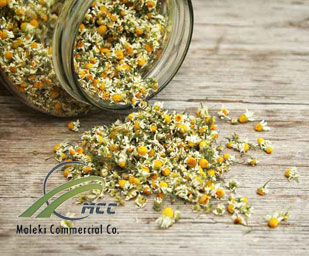 German chamomile global export
Maleki commercial, the global exporter of German chamomile with highest active ingredients and essential oil, maximum quality and lowest price among all companies. This holding has gained a lot of success in this trade to many different countries. If you need premium quality this plant you can buy best standard qualities and standard packs with high confidence.
German chamomile price in Iran
Maleki commercial exports best price German chamomile through Elliso sky brand to the world and gained a lot of customers and high rate of satisfaction today.
German chamomile supplier in Iran
Maleki commercial is ready to sell German chamomile to customers all over the world. We guaranty all our products through sea, air or post export.
Maleki commercial is warrantor to its customers and answers through differnt contact ways. Customers are the main base of this company. We send all orders of our products worldwide with no doubt and lateness.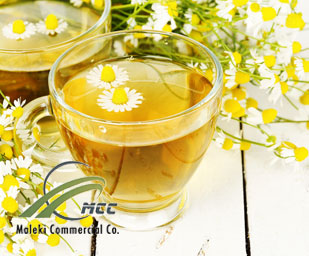 German chamomile names
Scientific name: Matricaria Recutita
English name: Chamomile, Germany Chamomile
French name: Camomille
German name: kamille
Arabic name: Baboonj, Gharas
Persian name: Baboone alemani, Baboone saghir, Baboone rasmi, Baboongh, Baboone shirazi
Family: Asteraceae